The mining industry is a complex industry. It is a challenging process to extract raw materials of different shapes, sizes and chemical compositions from the earth's crust and process them into a final product with uniform standards and high quality. Not to mention that the process involves large-scale transportation, scheduling, and destination of raw materials, just like a manufacturing plant without labeled boxes.
Automation plays an important role in the mine environment. However, for most mining companies, automation is a much larger concept than regulatory systems, regulation, and instrumentation. Automation covers everything from geological/geographic information system software to automated machines, from mine running software to optimizing systems.
With the development of global mining automation, there are seven trends that may emerge in the future.
Trend 1: Application Information System to complete data integration and user-defined data aggregation
There is a lot of information in some mining operations. A variety of different and proprietary systems provide a large amount of data, such as program control, enterprise resource planning (ERP), manufacturing execution system (MES), laboratory information management system (LIMS), processing information management system (PIMS), Quality control, asset management, team management, geographic information systems (GIS) and energy management systems. And if the data is not processed, filtered, and integrated in an efficient way, it will be useless.
If you can't get a reasonable connection, some applications will do redundant work and generate data and spreadsheets because of the isolation of the database. In this case, you need to manually input or use homemade custom software to connect these applications.
In order to solve this problem, mining operations are shifting to the idea and framework of integrated information integration, and it is necessary to connect different applications in a reasonable way to achieve shared information, centralized data and better data exchange. Orchestration. In addition, individual supplier systems need to be more friendly and use open standards to ensure that information is accessible.
User-defined data aggregation
When using aggregated data, a production manager can customize his PC screen to display energy efficiency information, ore particle size, grade, cost, and emissions. All he has to do is drag and drop key performance indicators (KPIs), reports and trends that are urgently needed, even if the information comes from different sources and layers.
At a higher level, a shop floor manager can focus and visualize more information, not just information. The energy and public equipment consumption of the office building and the processing equipment of the IT and the computer can be collectively displayed on one screen. In general, users can customize their interface from all available data sources to suit their needs.

A production manager can customize his personal computer screen to aggregate the important data he needs based on his current needs.
Trend 2: Connect production information and energy information
Users need a deeper understanding of how energy is being used, and the ability to identify the causes and root causes of increased energy production per unit of output. This understanding requires timely access to accurate energy information and an understanding of the operating environment in which energy is used. Some users have energy consumption information, but this information is not in contrast to production information. There are also users who are unable to discern the difference between excessive consumption caused by normal process requirements or excessive consumption caused by abnormal behavior.

Energy in the production environment: average energy consumption per ton per production method
In this case, energy prediction is very challenging because there is no independent and complete model of how energy is utilized.
For many years, energy consumption and production process control were operated by two unrelated departments, which are typical information silos with no connectivity or comprehensive analysis. Today, however, these two factors cannot be unconnected because energy efficiency is essentially the optimization of process control. The combination of physical and data between products, controls and power allows users to link process performance to energy management, quality and efficiency. Energy information can also be used to optimize online processes.
In processing, the most important thing is to master online energy efficiency information. This also allows the operator to manage energy consumption and its costs, and to estimate the impact of the decisions they make. This is the perfect combination of energy and control systems.
Trend 3: Network and Ethernet technology in the stope
Useful data from the stope and control system can be transparently and directly entered into the production and business application level and become an important source of information, which will greatly reduce data entry, re-entry and input errors. More importantly, this information comes from the actual production process.
Equipment including instrumentation, online analytical instrumentation, motor control, and special equipment such as equipment for measuring ore weight and gas emissions. These devices connected to the Ethernet network allow users to obtain data to create visual data, and A streamlined approach to configuring and maintaining these devices, not just the ones that are limited and isolated from a single process.
The embedded web server allows users to access monitoring and configuration devices using a commercial web browser. An open industrial Ethernet network saves the cost of proprietary software and provides a more intuitive tool. The technology also allows users to customize the device home page to their needs. The email server notifies the user if an error occurs or the variable is at a critical level.
At the factory level, Ethernet and Internet technologies allow remote device access. At the equipment level, isolated mines can also be monitored and maintained.
Trend 4: Centralized operation and monitoring
One of the concepts that must be mentioned in mining operations is the use of a central virtual control room. The central control room monitors mines at different locations in a fixed location. For example, the central control room can monitor all energy consumption from different units and compare the performance of different plants at a fixed location, including their equipment levels and loads. From a business perspective, this helps benchmark and compare the same process at different plants.
Trend 5: Radiocommunication
Over the years, radio communications have been used in mine environments, such as stacker and reclaimer communications, remote pumping systems in remote locations, and flow control communications. But the world is becoming more and more wireless, and it is conceivable that the next step in this prior art is in industrial production and in factories.
Wireless sensors, radio frequency identification materials and personal tracking, condition monitoring and data acquisition are becoming more common and can be found in the mining industry. Some mining companies in order to achieve the purpose of traceability labels have tested those mixed with iron ore pellets. In addition, in order to achieve efficient regulatory and asset management strategies, wireless networking technologies are evolving toward instrumentation and device networks.
Wireless is facing the two challenges of technology integration and process control. Just as the fiber "war" years ago, a struggle between wireless technologies is going on. In addition to performance and security, users are waiting for the standardization and technical definition of this technology.
The competition between different technologies and suppliers means that users are not completely confident about this technology, and they want to wait until the technology is fully accepted and integrated before investing.
In addition, wireless technology is intended to operate the instrument and motor control center, thereby reducing the inconvenience of the cable in these processes. However, the use of wireless technology in closed loop control and critical interlocks still leaves users concerned.
Trend 6: Automation System
Mining companies are conducting in-depth investigations into the safety and efficiency of automation equipment and machines, such as automated trucks and automatic excavators. The technology ranges from remote and semi-automatic operations to an automated system with no human involvement. The biggest challenge is not only the complete automation of the equipment, but also the need to design a system that involves the simultaneous operation of multiple automated machines, all operating in the same timeline in a coordinated manner and maintaining the proper position. And safety measures to avoid collisions. In addition, the entire system must be intelligent and capable of adapting to production changes and unexpected emergencies.
Trend 7: Image and Video Processing Tools
To date, camera systems and video surveillance have only been applied to human and property protection. However, they can also be used in mining environments, unlike conventional monitoring, which automatically identify defective equipment, sizing, splitting, and thermal profile equipment. Optimized integration of image analysis and automated tools for camera systems, such as process control, monitoring systems, etc., will help improve image and video solutions.
These seven technologies are like a microcosm, explaining how automation will affect future mining operations. Reasonably integrated automation technology, combined with more advanced extraction and refining technologies, will help users work safer, more productive, efficient and environmentally friendly.

SME high pressure pumps are suitable for heavy duty applications where require a higher head per stage or higher pressure.
They are mainly used for long distance transportation or other applications where more than one pump is required.
| | |
| --- | --- |
| Pump Range | 1-inch to 6-inch |
| Capacity | up to 1008m3/h |
| Total Discharge Head | up to 118m |
Material available: high chrome alloy A05
Hi Pressure Slurry Pump Construction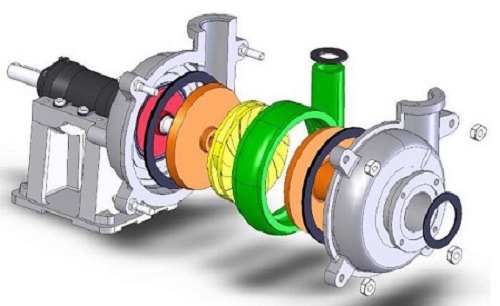 Configuration Type

High-Pressure Slurry Pump,High Head Slurry Pump,Sand Blender Slurry Pump,Tunnelling Slurry Pumps
Shijiazhuang Minerals Equipment Co., Ltd , https://www.smepump.com