Non-ferrous metal scrap pretreatment refers to non-ferrous scrap and scrap state becomes possible to effectively process subsequent metallurgical processes. This process includes: achieving various physical dimensions and weight standards for various waste materials and waste materials; separating non-ferrous metals from ferrous metals; removing non-metallic inclusions, moisture, oil, and the like. Fine and high-quality preparation of waste non-ferrous metals, suitable for metallurgical processes, can reduce the loss of non-ferrous metals to a minimum, reduce the unit consumption of fuel, electricity and flux, and make efficient use of metallurgical equipment and transportation tools. And improve labor productivity and the quality of non-ferrous metals and alloy products.
Pretreatment of non-ferrous metal scraps and scraps includes the following main processes: sorting, cutting, packing, briquetting, crushing, grinding, magnetic separation, drying, degreasing, etc. Special recycled raw material (waste battery, motor waste, scrap wire, scrap iron horse) pretreatment, using a special production line.
The All-Russian Recycling Non-Ferrous Metals Scientific Research Institute has studied the general process flow of waste non-ferrous metal pretreatment (Fig. 1), starting from non-ferrous scrap and scrap into the workshop, and until the finished product is sent to the customer's plant.

Disintegration of waste motor
Waste motor copper content is 15 to 30%, the rest is a black metal (or an aluminum-based alloy) and the insulating material and the like.
The purpose of disassembling the waste motor is to decompose the stator and rotor windings (copper or aluminum) therefrom. Mechanical disintegration is generally performed on a variety of machine tools of different constructions.
The stator winding of the medium and small power AC electric motor is cut, usually using a lathe. The stator windings should be removed from the motor housing before severing. After cleavage, the stator is sent to roast.
The process of extracting copper windings from the calcined stator is performed on a dedicated machine tool (Fig. 2). The stator is first fixed to the frame and clamped by the movable clamping plate, which is driven by the hydraulic cylinder and can run along the vertical plane. After the stator is clamped, the hook is pulled into the stator winding and the winding is pulled out with an
Electric Winch
. This special machine can decompose 8 to 10 medium-sized stators per hour. The winch pull is 14.8 kN. The machine has a frame size of 4.1 x 1.6 x 2.6 meters and a weight of 2760 kg.

Figure 2 Special machine tool for extracting and winding from the stator of the waste motor
1-rack; 2-pillar; 3-hydraulic cylinder; 4-moving splint; 5-motor; 6-clutch; 7-winch; 8-book
In order to remove insulation, oil, paint, etc., the stator and rotor with windings must first be oxidized and fired in a combustion chamber furnace (Fig. 3). The main part of the combustion chamber furnace is a roasting chamber, a gas burnout chamber and a lifting movable bottom. The bottom of the furnace with the stator and rotor is routed to the bottom of the furnace and then lifted up by the hydraulic system and pressed against the wall.
The roasting chamber used to burn and carbonize the insulation and grease uses solar oil as fuel. Exhaust gas containing oil-steamed oil and products whose organic matter and polymer are not completely burned are treated harmlessly in the burn-out chamber, and the burn-out chamber is self-heating. The exhaust gas is also dusted by a vacuum cleaner before being discharged into the atmosphere.
Technical parameters of the combustion chamber furnace:
Production capacity (ton / class) 3.5 ~ 4.5
One charge (ton) 2.0~2.5
Calcination chamber temperature (°C) 630~830
Burnout room temperature (°C) 930~1030
Roasting chamber volume (m 3 ) 7.0
Burnout chamber volume (m 3 ) 7.8
Bottom size (m) 6.5×6
Roasting time (hours) 3~5
The drawback of using the above-described method to decompose the waste motor is low productivity, large manual labor, and loss of ferrous and non-ferrous metals.

Figure 3 Waste motor roaster
1-baking chamber; 2-burning chamber; 3-fan; 4-exhaust pipe; 5-furnace; 6-piston rod; 7-nozzle; 8-track
The dismantling process of the waste motor recommended by the All-Sustained Non-Ferrous Metal Research Institute is more reasonable. According to this process, a waste motor weighing more than 40 kg is sent to a special machine for mechanical disassembly, and the stator and rotor are removed. Next, the stator is transferred into the receiving chamber of the hydraulic shearer to crush the iron shell. The broken stator is sorted into a copper-containing stator iron and cast iron block on a conveyor.
The rotor removed from the waste motor is then sorted into a copper-containing rotor and an aluminum-containing rotor. The aluminum-containing rotor can be used in ferrous metallurgical enterprises, such as in the deoxidation of steel.
As a result of decomposing the waste motor, the copper content in the raw material was increased by 15% (Table 1), and 40 to 50% of the total weight of the waste motor became waste iron and scrap.
Table 1 Composition of waste motor and its disintegrated products (%)
| | | | | | |
| --- | --- | --- | --- | --- | --- |
| materials | Cu | Pb | Al | Fe | Insulating material |
| Waste motor | 19.4 | 0.3 | 2.0 | 71.0 | 7.3 |
| Copper-containing scrap | 35.6 | 0.y6 | - | 56.2 | 7.8 |
| Waste cast iron and scrap | 0.25 | 0.004 | 4.3 | 89.2 | 6.24 |
There is a certain development prospect to treat the waste motor by the freezing method. The freezing method can greatly reduce the load of subsequent processes such as separation of ferrous metals and non-ferrous metals by crushing and magnetic separation.
A part of the waste motor that does not need to be pretreated can be processed into copper-containing carbon steel or smelted (for example, using an open hearth furnace) to form an intermediate alloy containing 8 to 15% of copper. This intermediate alloy can be used to make a variety of copper-containing alloys.
According to the research process of the Ural Kirov Institute of Technology, Kirovgrad Bronze Company has extensively used air arc cutting to decompose large waste electric motors and waste generators (the stator diameter is 0.5-1.5 m) to solve such recycled raw materials. The labor productivity of this book has increased by 4 to 5 times.
Rigging Hardware, More Than Thousands Variety. Including, Safety Hook, Eye Hook, Clevis Hook, Shackle Hook, Self-locking Hook, Clevis wing grab hook, Clevis sling hook with latch
ect .
For these lifting hook:
1) Standard: European Type, US Type, DIN Type, JIS Type.
2) Grade: G100 G80 G70 G43.
3) Material: Alloy Steel, Carbon Steel, EN1677 Material.
4) Surface :Powder Coated, Painted, Zinc, HDG.
5) Process: Forged, Quenched and Tempered.
6) Specification:6MM 7/8MM 10MM 13MM 16MM 18/20MM 22MM 26MM 32MM.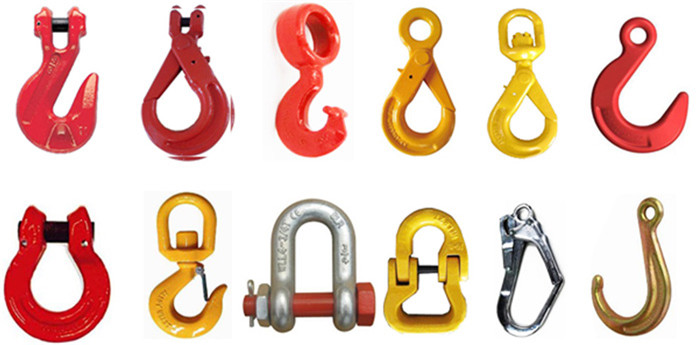 Shackle Hook
Characteristic:
1. Safety buckle: safety insurance card design, not decoupling, convenient and safer.
2. 360 degree rotation: the ingenious design can remove the rotational force
Generated during the lifting process.
3. Surface sprayed: spray treatment, better rust prevention, corrosion protection.
Parameter: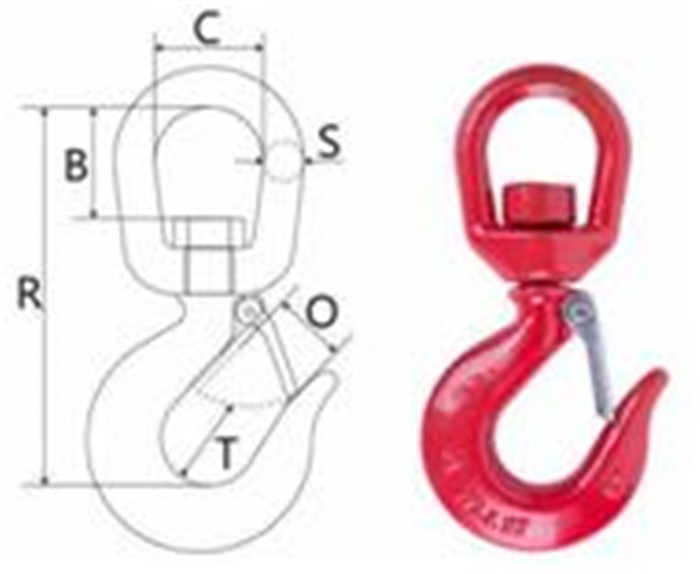 Load capacity (ton)

Size (mm)

B

C

O

R

S

T

1.0

23.8

31.8

22.3

113.5

9.5

20.5

1.5

33.0

38.1

24.6

136.5

12.7

20.5

2.0

41.3

44.5

25.4

152.8

15.9

21.3

3.0

39.7

44.5

28.4

161.9

15.9

26.0

4.5

44.5

50.8

34.0

188.1

19.1

35.0

7.0

58.7

63.5

42.9

243.7

25.4

45.1

11.0

60.3

69.9

52.2

282.5

28.6

53.8

15.0

71.4

79.4

57.0

303.2

31.8

63.5

22.0

114.0

105.0

81.0

431.0

40.0

72.0

30.0

105.0

105.0

82.5

472.0

40.0

75.5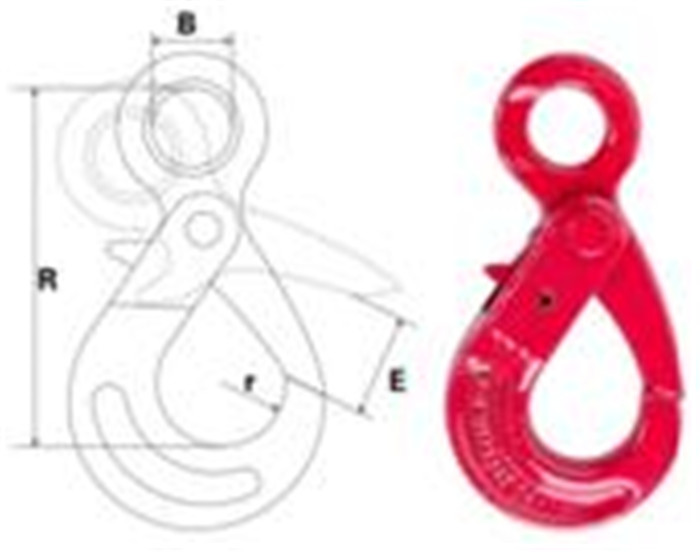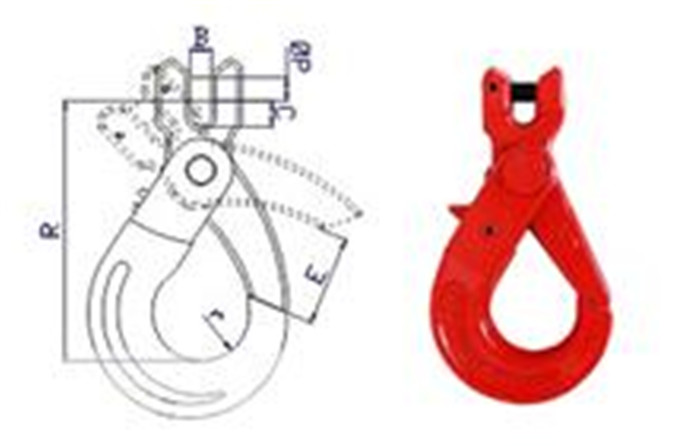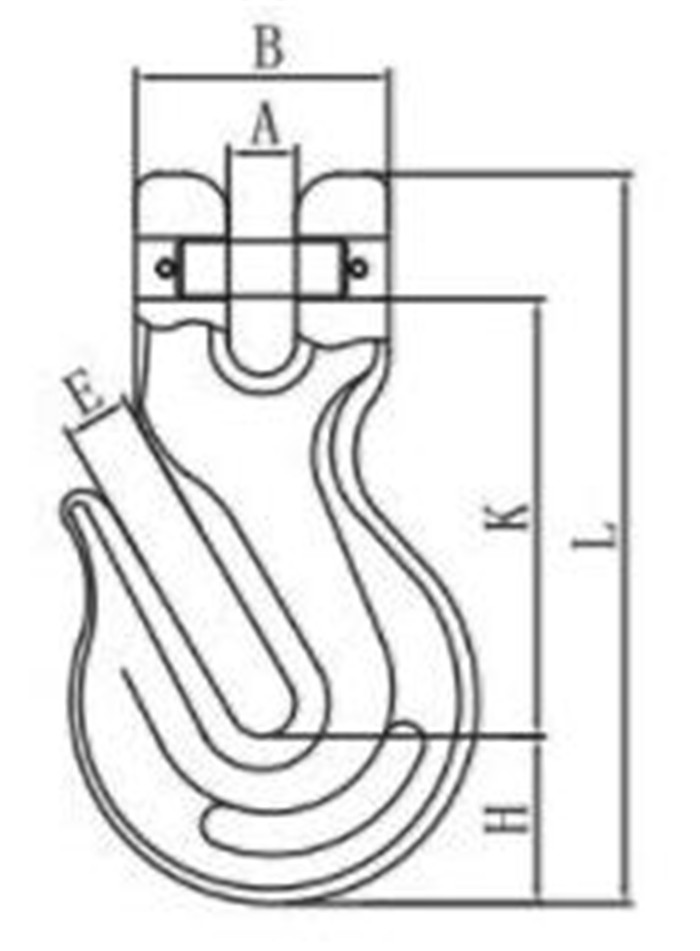 Self-locking Hook Clevis sling hook with latch Clevis wing grab hook
Hoist Hook,Engine Hoist Hook,Chain Hoist Hooks,Crane Hoist Hook
Jiangxi Mide Industrial Co., Ltd. , https://www.midecrane.com