With the increasingly popular domestic RV market, the traditional domestic Iveco RV is also favored by more and more families. The fact that Iveco cars are popular in the domestic RV market is due to the fact that they are reliable and the cost of post-maintenance. A home-made self-style selling price of 400,000 to 500,000 yuan bears the heavy responsibility of providing a family with a high-quality camping life. Therefore, its space must be applied to the extreme. With the maturity of the expansion warehouse technology, many self-propelled RVs in China have used double expansion warehouses to gain more space for use. So today we have introduced the capital of private cars for those pursuing space buyers. —The picture configuration of the Iveco C-type residential vehicle produced by Suizhou Hubei Junhao Special Vehicle Co., Ltd.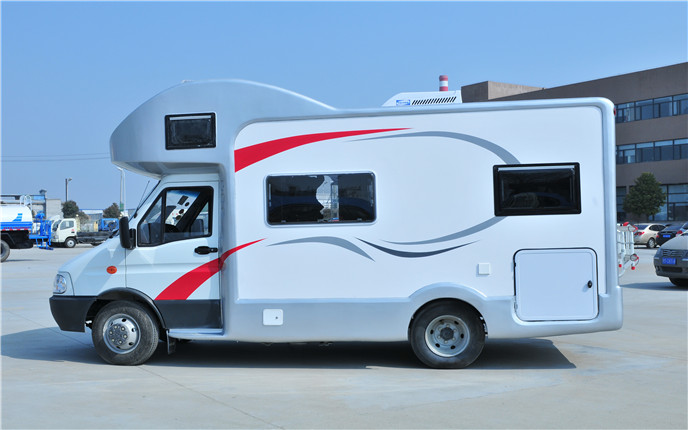 From the exterior view, the body decoration is very much in line with the name of the "Rhyme of rhyme" car model, the appearance of the body is simple and atmospheric, pure white body with petals and butterfly decoration, giving people a fresh and natural feeling. With a body length of 5,990mm, a C-type driver's license can be used to drive the road, which will undoubtedly allow more consumers to own it.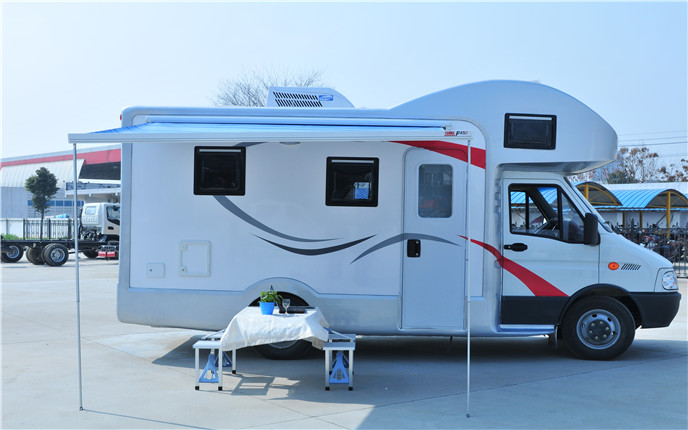 The top of the car body is equipped with roof air conditioning, satellite TV antenna and solar panels, and the rear is equipped with bicycle racks and ladders. As a double-expansion model, the difference from the ordinary models is the expansion of the left and right sides. The expansion box on the left side of the car body is equipped with an automatic retractable sun shade, reflecting the thoughtfulness of the manufacturers. An electric sunshade is installed on the right side of the body to provide a spacious seating area while the extension compartment is open. (RV price consultation 131-3573-8222 Mr. Chen)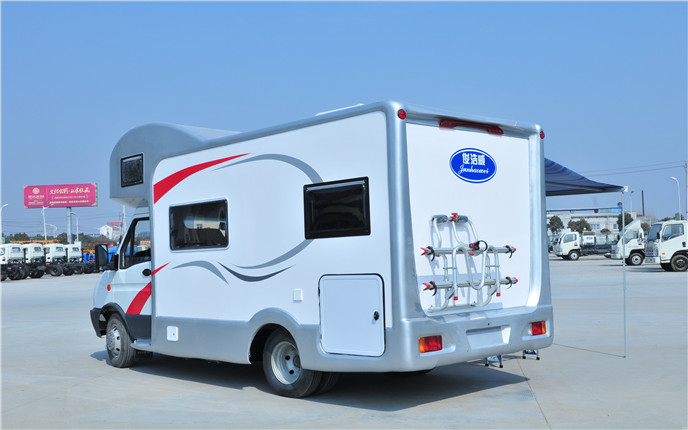 Into the back of the compartment is a separate closed master bedroom, which is completely occupied by the entire right expansion space. The focus is on the inside of a large double bed, soft mattress, lying too comfortable, is simply into the hotel's deluxe bed room! Traditional RV interior space is limited, in terms of functionality and comfort can not be achieved It is simply unthinkable to design nearly 1⁄2 of the space as a bedroom; however, with the expanded structure, the interior space is greatly increased, and the elaborate layout provides the user with such a comfortable and spacious bedroom. There is a wardrobe and storage space, and there is also a satellite TV. Remember the little pylons outside the car? It was used to hang it. The staff introduced that the TV is mobile. When you are camping and grilling outside the car, you can hang the TV out of the car and watch the food while watching the show. It seems that the manufacturers really spent time thinking about the users. Every detail is taken into account. .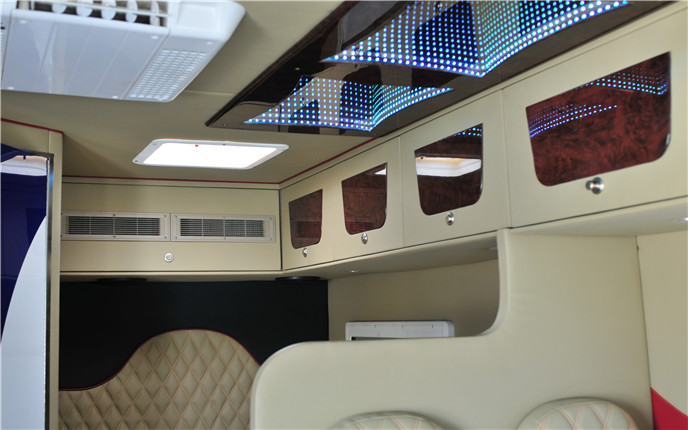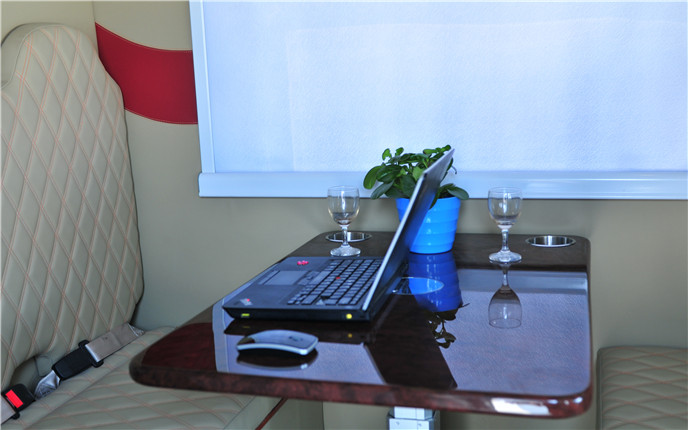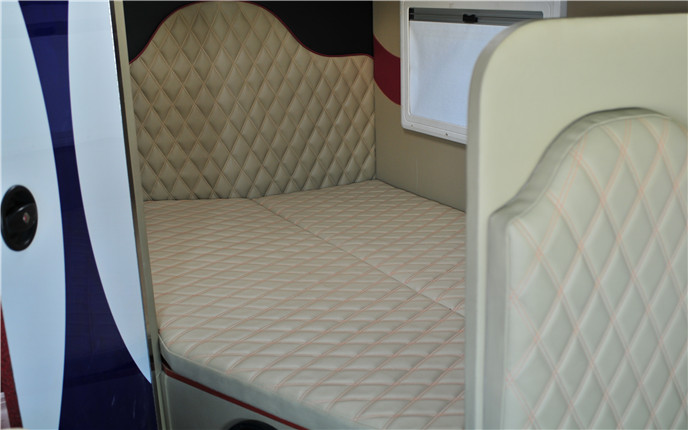 Iveco RV Configuration Table
Junhao Iveco RV technical parameters and main configuration ( Leading Edition )

Vehicle form

Self-propelled vehicle

Overall dimensions (length × width × height) (mm)

5995× 2300/2360 × 3100

Chassis model

NJ1044CFCZ

Fuel type

Diesel

Drive form

Rear wheel drive

Gear change form

Manual five gear

Wheelbase (mm)

3310

Track (front/back) (mm)

1683/1540

Tire specifications

6.50R16C

Brake form

Full disk brake system

Gross mass (kg)

4480

Rated loading capacity

4-6 people (including drivers)

Fuel consumption per hundred kilometers (L) (50km/h)

≤9 constant speed, without air conditioning

High speed (km/h)

115

Driver license type

C shines (blue card)

Standard configuration

1

Integrated outer glass shape

twenty four

RV refrigerator

2

All-car aluminum frame sandwich plate body

25

Mosaic cooker / range hood

3

First officer seat rotation (fabric)

26

High-power inverter

4

Pair of luxurious sofas (leather)

27

External 220V AC power outlet

5

Liftable wooden table

28

Cab top double bed (with ladder)

6

Super wear-resistant anti-skid floor leather

29

Luxury master switch panel/inlet water level, battery display

7

Top skylight

30

15 meters external cable

8

Luxurious with window screens from double blinds

31

Smoke detector

9

Bathroom exhaust fan

32

Fire extinguisher

10

Rear double bed/mattress

33

External water injection pipe assembly

11

Locker

34

90 liters grey water tank

12

Combination cupboard/cabinet cabinet

35

120 liters of clean water tank

13

Dual power car heater

36

RV external injection gate

14

Imported power center

37

Cape Portable Generator

15

Whole bathroom

38

Colorful car stickers

16

RV toilet

39

On-board computer 5.1-channel integrated karaoke sound system

17

Wash basin assembly with lid

40

Cab left and right side soft pack / vehicle leather soft bag

18

Manual roll awning

41

Instrument tray soft pack

19

High-power running air conditioning system

42

Elle speakers

20

Overhead parking air conditioning system

43

Peach wood frame

twenty one

Interior ceiling light / bedside light / external light / reading light

44

LED sky stars

twenty two

Car DVD/Reverse Monitor/GPS Satellite Positioning

45

LED top atmosphere light

twenty three

24-inch LED LCD TV

46

LED lighting

Optional configuration

1

ABS system

5

Bicycle rack

2

Rear trailer hook

6

After the lift

3

Top guardrail

7

Four-way monitoring

4

Moving through satellite television

8

Fuel heater
For modern people, tourism is an indispensable part of life. The appearance of RVs has improved the quality of people's tourism. They no longer have to worry about having nowhere to live and a ticket difficult to find. In order to provide a comfortable travel environment, the above RV building plan can be used as a reference for friends. Change is ubiquitous. As long as you dare to dare to do something, nothing can be achieved. As long as you have a good car modification program, welcome to communicate with our manufacturers, Hubei Junhao look forward to your visit! Website visit can click http://
FantasView Multi-Fit Snow (winter) wiper blades feature a protective rubber boot to help prevent snow and ice from clogging the blade. This allows the blade to maintain even pressure to provide a clean wipe and enhance driving visibility. Winter Wiper Blades are constructed of high-grade speed; and extruded rubber for durability and performance in wet, wintry weather.
This exceptional blade fights freeze-up, streaking, and smearing and its winter jacked design resists snow and ice build-up.

Rugged Steel Frame Construction Will Not Twist, Warp or Crack

Fully Enclosed Wiper keeps Out Ice, Sleet and Snow.

Extra Large Rubber Wiper Covers More Surface Area

Quick and Easy installation

FantasView has added the world's only winter wiper blades that fit the Most of New OE wiper arms, tha's can fit more than 98% cars around the world.

Size Available: 11"~26"
Multi-Fit Snow Wiper Blades,Multi-Clip Snow Wiper Blades,Multi-Fit Winter Wiper Blades,Multi-Fit Snow Windscreen Wiper Blades
NINGBO FANTASVIEW WIPER BLADES CO., LTD. , http://www.fantasview.com