VOC

Definition: volatile organic compounds. Generally, NMVOC (non-methane volatile organic compounds) is used to refer to VOCs at home and abroad. Because the concentration of methane in VOC is high (volume ratio 1.76ppm, mass ratio 0.97ppm, concentration ratio 1.35mg/m3), it will dilute the influence of other VOCs.

There are certain flaws in the VOC indicator:

1. There are many types of VOCs, but it is impossible to include all volatile organic compounds during monitoring and supervision. Therefore, some indicators have been used in China to characterize VOCs such as VOCs, TVOCs, non-methane total hydrocarbons and hydrocarbons.

2. The most important sources of VOC pollution are fixed source combustion, transportation sources, solvent applications, chemical production and storage, petroleum storage and transportation, refining, and hybrid sources. The components of each source (alkanes, alkenes, aromatics, carbonyls, halogenated hydrocarbons, and others) vary, but the VOC index is only superficially added to various volatile organic matter and cannot be characterized by various components. the difference.

VOCs

The original intention of the VOCs indicator is to analyze the results of various components by analyzing the composition of VOCs.

Definition: Volatile contaminants are those with boiling points below 260 ° C. They have a high vapor pressure in the air and are easily volatilized in gaseous form in ambient air - Air and Exhaust Gas Monitoring Methods (Fourth Edition) )

Vapor pressure greater than or equal to 10 Pa at 293.15 K, or all organic compounds (excluding methane) with corresponding volatility under specific conditions, abbreviated as VOCs. - "Tianjin Industrial Enterprises Volatile Organic Compounds Emission Control Standards" (DB12524-2014)

Standards: Environmental quality standards are not available; emission standards have no national standards for the time being, only local standards and industry standards, such as "Tianjin Industrial Enterprises Volatile Organics Emission Control Standards" (DB12 524-2014).

Monitoring methods: Determination of volatile organic compounds in ambient air, tank sampling/gas chromatography-mass spectrometry (HJ759-2015), sampling air bag method for volatile organic compounds from fixed pollution sources-HJ 732-2014, etc.
TVOC

Definition: A non-polar column (with a polarity index of less than 10) was analyzed using a Tenax GC or Tenax TA sample with a retention time of volatile organic compounds between n-hexane and n-hexadecane. - "Indoor Air Quality Standards" (GB/T18883-2002)

The TVOC indicator appears in the Indoor Air Quality Standard (GB/T18883-2002). It is not an indicator of the sum of all VOCs, but an indicator of the common VOC addition in the room.
Roof sheet roll forming machines/ Roof Sheet Forming Machine are widely used for building, include Corrugated Roof Sheet Roll Forming Machine,IBR Roof Sheet Roll Forming Machine, glazed tile roof sheet roll forming machine, Ridge Cap Tile Roll Forming Machine and Double Layer Roll Forming Machine.
These machines are high quality, save power heavy duty and low cost, which are easy to operate.
Specification:
| | |
| --- | --- |
| Raw material | GI, PPGI, Aluminum coils |
| Material thickness range | 0.3-0.8mm |
| Feeding width | 1000mm, 1200mm, 1220mm, 1250mm |
| Forming speed | 25-30m/min(excluding cutting time) |
| Rollers | 18 rows |
| Material of rollers | 45# steel with chromed |
| Shaft diameter and material | 70mm, material is 40Cr |
| Material of cutting blade | Cr12 mould steel with quenched reatment |
| Control system | Mitsubishi/Siemens PLC control system with transducer inside |
| Main motor power | 3KW |
| Hydraulic station power | 3KW |
| Voltage | As your request |
Ps:The above are for reference, we design machines according to your needs.
Working process:

Decoiler- Feeding width- Roll forming machine- PLC control- Hydraulic cutting- Collecting platform
Pictures for machine: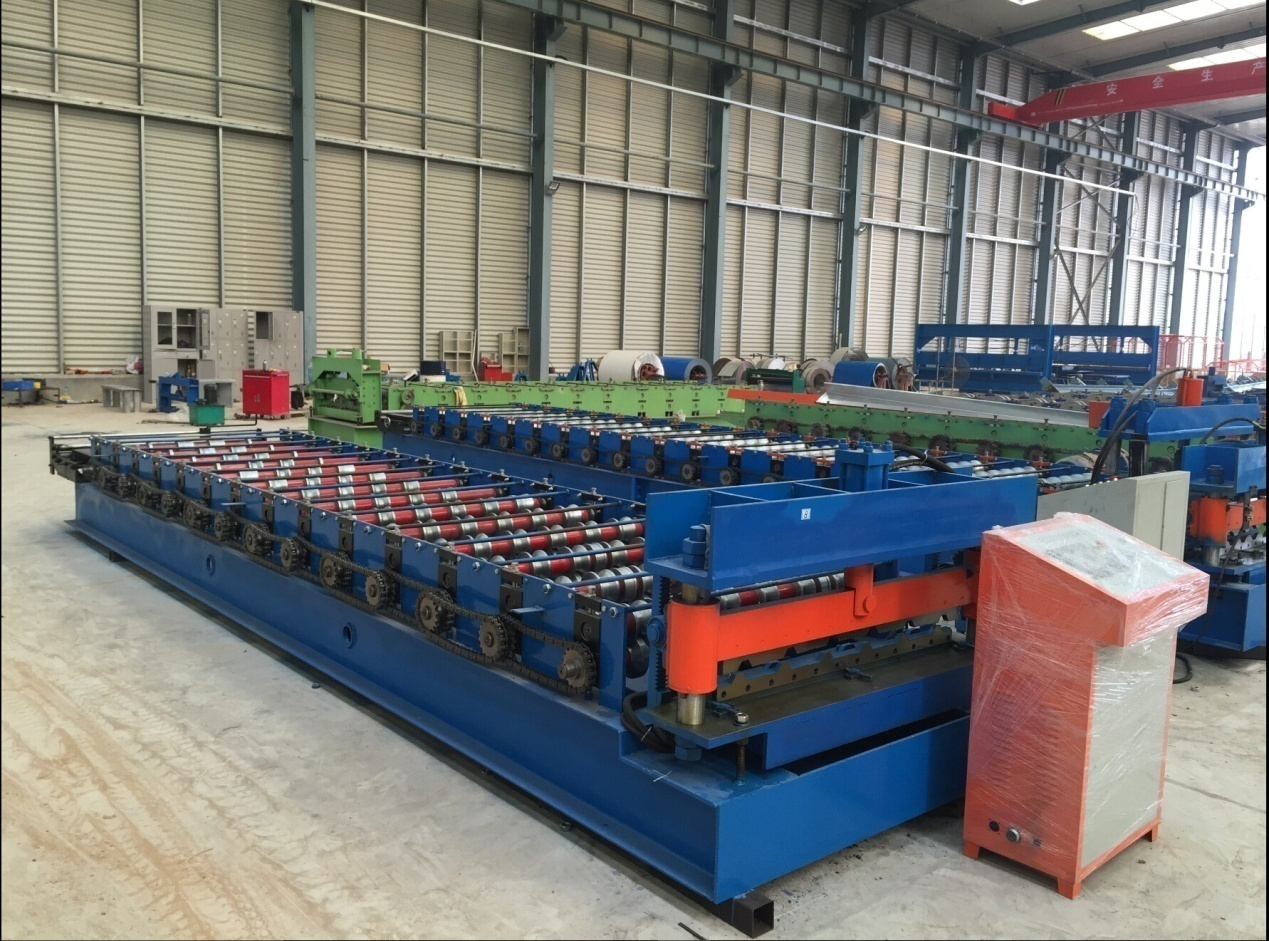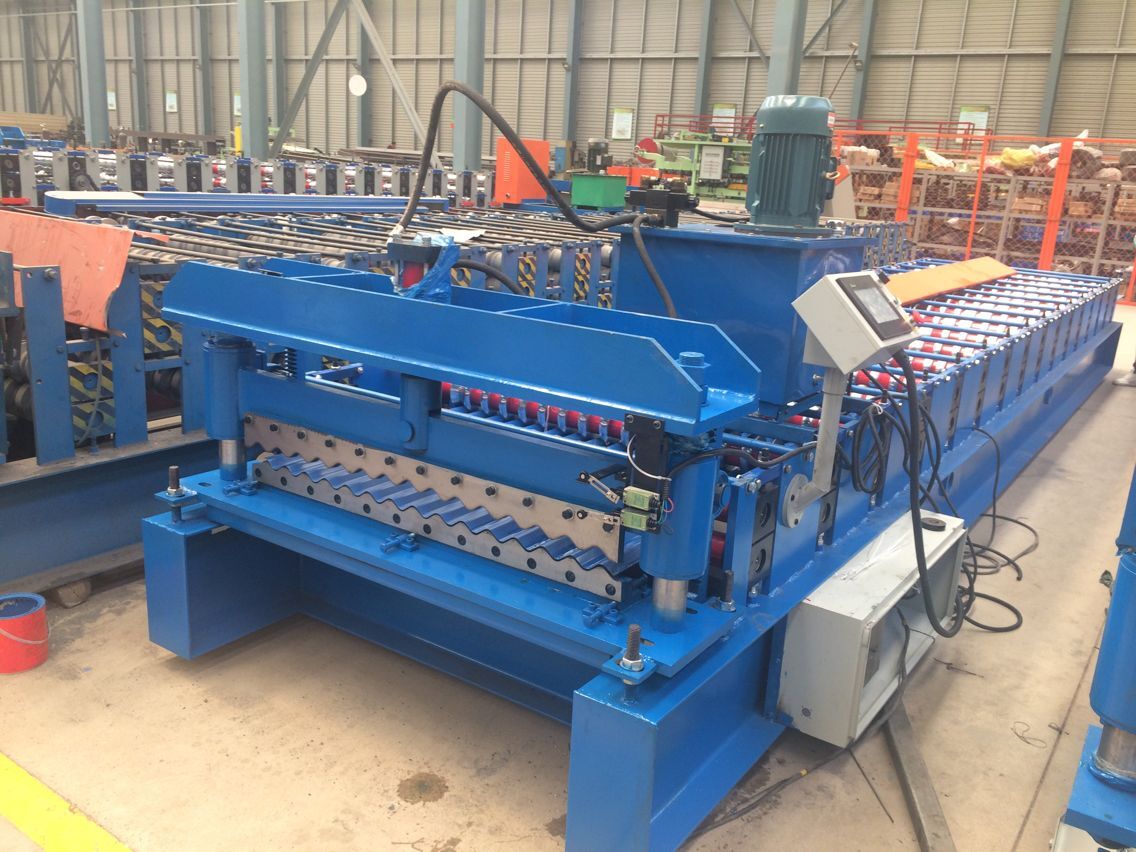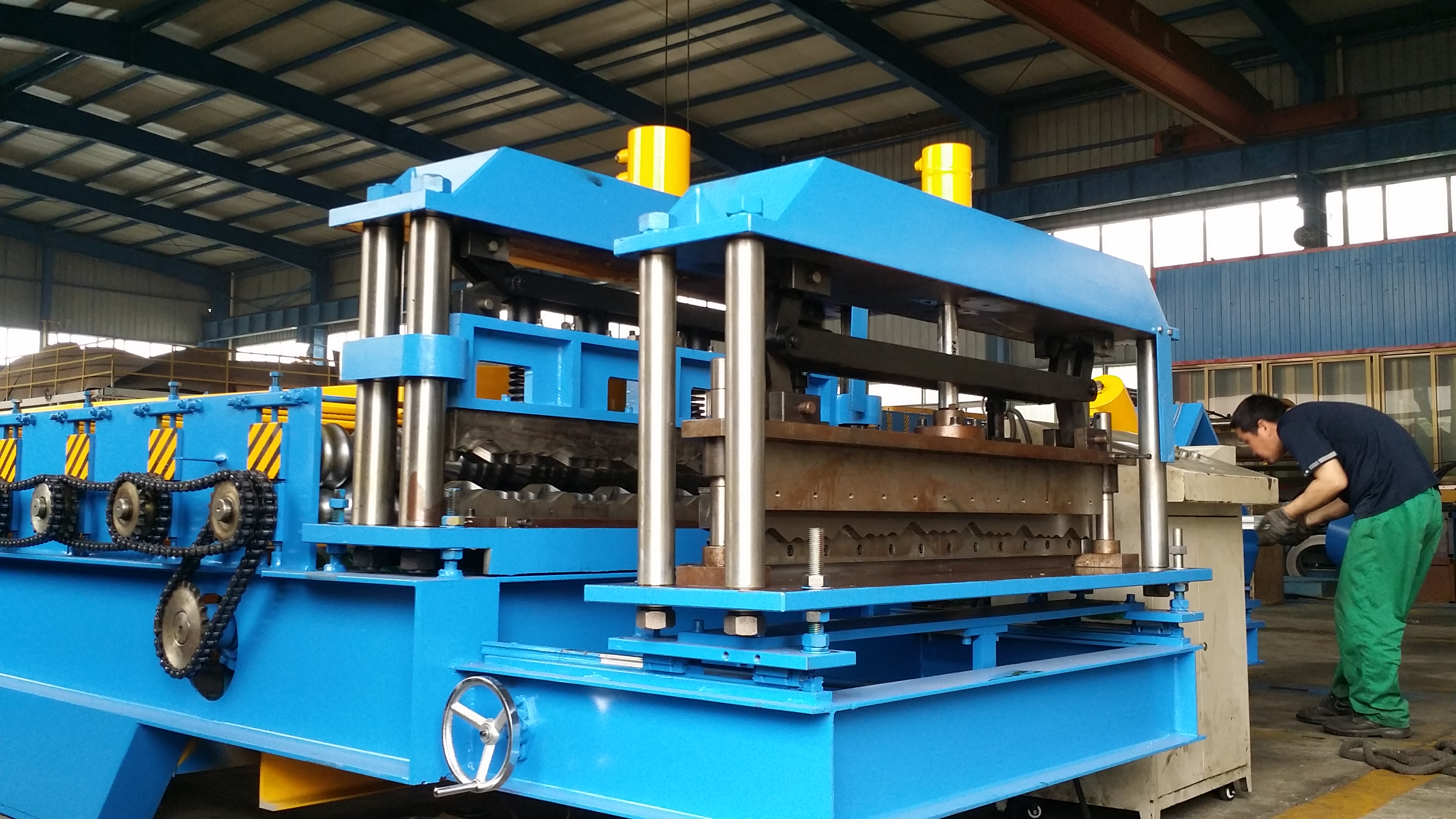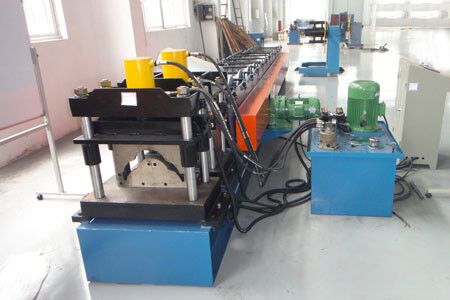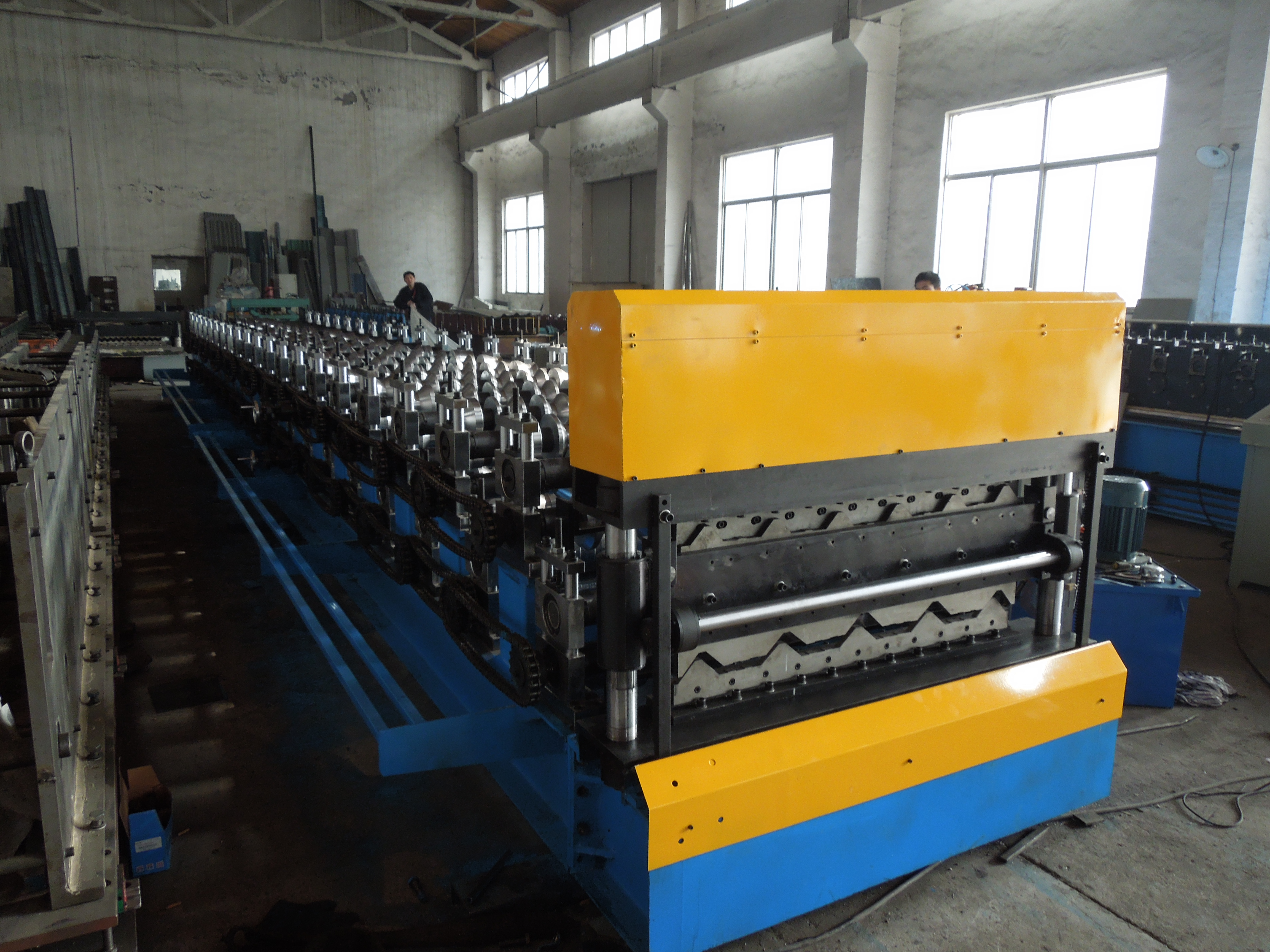 Training and Installation :
1. We offer installation service local in paid, reasonable charge.
2. QT test is welcome and professional.
3. manual and using guide is optional if no visiting and no installation.


Certification and after service:
1. Match the technology standard, ISO producing certification
2. CE certification
3. 12 months warranty since the delivery. Board.


Our advantages:
1. Short delivery period.
2. Effective communication
3. Interface customized.

Roof Sheet Roll Forming Machine
Roof Sheet Roll Forming Machine,Corrugated Roof Sheet Machine,Roof Tile Making Machine,Wave Panel Roll Forming Machine
YingYee Machinery and Technology Service Co.,Ltd , https://www.yingyee.cn