Type:
Semiconductor Laser Marking Machine
Marking Method:
Scanning Marking
Max.Marking Area:
110*110mm
Transport Package:
Wooden Box
Specification:
CE SGS FDA, ISO, BV
Origin:
Wuhan City, Hubei Province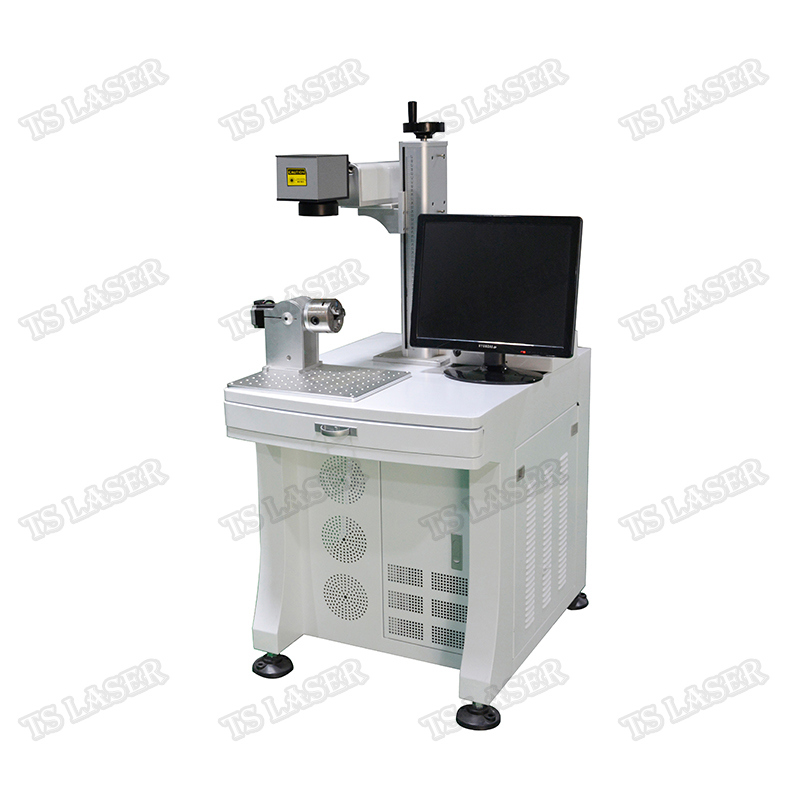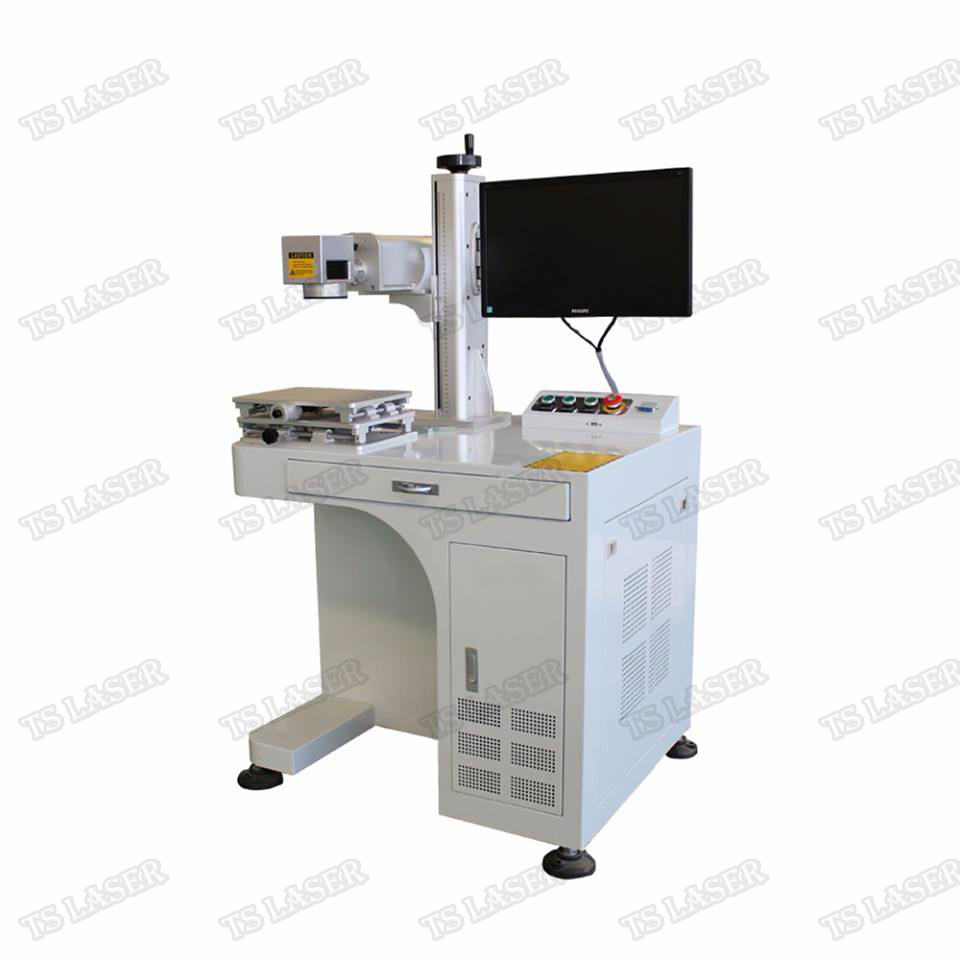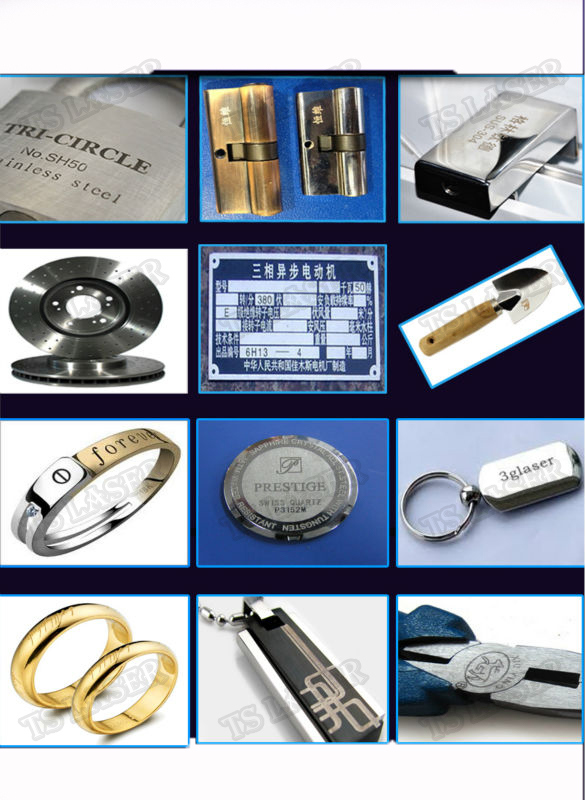 Diode End-pumped Laser Marking Machine
                              
Laser Power :15W 20W Diode pump 
Laser marking machine is suitable for marking/engraving/ micro-cutting/ etching/Printing/etch on metal/stainless steel/bearings/ring/gold/silver/ watches/and most of nonmetal materials,just like acrylic,plastic,cable,wire,package and etc.
 
Application:  Bar coding marking, Matrix code marking, Stock Number marking, Production date marking, logo marking, Personalized gifts sculpture, etc.
 
>>>Technical parameters (End Pumped laser marking machine)
Tag arguments
Model name
TSM12WC
TSM20WC
Standard marking size
110mm*110mm/70mm*70mm  150mm*150mm
Laser power
≤12W
≤20W
Laser wavelength
10.64um
10.64um
Laser Beam (M ²)
<1.1
<1.5
Laser characterization
Marking Depth 
≤1mm
≤1.5mm
Min Line Width 
0.01mm
0.01mm
Repeat Accuracy 
±0.001mm
±0.001mm
Min. character
0.6mm
0.6mm
Re-precision
±0.002mm
±0.002mm
Laser marker
Import
Import
Other
Power Consumption 
500W
800W
Working Voltage 
AC90~250V/50HZ 5A
AC90~250V/50HZ 10A
Cooling Mode 
Air Cooling 
Air Cooling 
Control system
windows xp, windows2000
Marking graph
User-defined character, CAD data/BMP, JPG, PNG, TIF, PCX, TAG, IOO, GIF, PLT
Package
N.W
50KG
Dimension (MM)
300×700×500mm
Package size
900×720×880 mm
Software features

 
1.To receive a variety of BMP, JPG, DXF, PLT, AI, etc, format. 
2.Automatically generates all the serial number, productiondate, one-dimensional(1D)vofrd, two-dimensional(2D)code. 
3.Support the flight marking. /Support the rotation marking. 
4.XY platform to support large-scale automatic segmentation of marking. 
How to work by laser marking machine?
Laser marking machine takes semiconductor laser diode pump Nd: YAG as medium. The wave- length is 1064nm with strong pulse under the function of Q-switch, so the efficiency of photoelectricconversion is high.
 
Under the control of the computer the resonance mirror can change the path of the laser beam to accomplish automatic marking.
 
Muti-fields can be used our laser marking machine
Diode laser marking machine is suitable for metal and most nonmetal materials like following:
| | | | |
| --- | --- | --- | --- |
| metal | √ | ABS | √ |
| alloy | √ | printing ink | √ |
| metallic oxide materials | √ | plating | √ |
| silicon wafer, | √ | spraying | √ |
| ceramics, | √ | coating film  | √ |
| plastic | √ | External materials | √ |
| rubber | √ | epoxy resin | √ |
 
Laser marking 's Used fileds:
| | | | |
| --- | --- | --- | --- |
| Electronic parts and component, | √ | Telecommunication product | √ |
| electrical appliance | √ | Car ,motor car 's spare parts | √ |
| Plastic case | √ | Aviation and aerospace | √ |
| Military product  | √ | Hardware fitting,facility,measuring implement,cutting tools | √ |
| Sanitary package | √ | medical instrum data matrixes ent | √ |
| clock,Jewelry | √ | Key board,glasses,solar PV,craft | √ |
*Marking ,engraving for character,graphs,images,trademarks ,photo,bar code,2D code,serial number,letters, symbol,auto-increasing , production dates, logos, and more 
 
Why Choose Laser Marking Machine:
Laser marking  offers abrasion-proof, durable, fraud-protected, and thermally- and chemically-resistant markings for any type of metal. The laser marking process is fast, precise, contact-free, and extremely flexible
 
Mixer For Bathtub,Bathtub Water Mixer,Bathtub Shower Mixer,Bathtub Mixer With Hand Shower
Kaiping City Yibiao Sanitary Ware Co., Ltd. , https://www.aolifaucet.com