Kerry Visits Cummins ISG Factory - Creating a New Model of Sino-U.S. Environmental Protection Development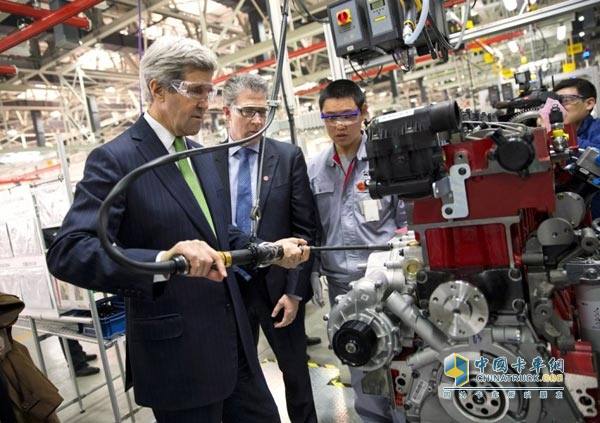 Kerry visits Cummins ISG factory
On February 15, 2014, U.S. Secretary of State John Kerry visited the heavy-duty engine plant of Beijing Foton Cummins Engine Co., Ltd., visited the Cummins ISG engine factory production line, and had more than 200 presence on the cooperation between the United States and China in strengthening climate change response. The audience gave a speech. Kerry said the establishment of Beijing Foton Cummins Engine Co., Ltd., advanced Cummins ISG heavy-duty engine platform and its leading manufacturing level not only paints a blueprint for the development of Sino-American engine business, but also represents a mutually beneficial cooperation between China and the United States. Kerry spoke highly of Cummins' achievements in the Chinese market and clean power, and encouraged everyone to create a more environmentally friendly and cleaner future through continuous innovation and sincere cooperation.
L8.9G domestic natural gas engine starting - driving the green future, Cummins green power added new force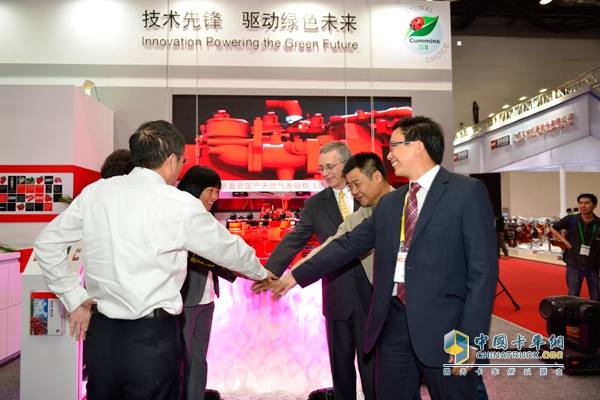 L8.9G domestic natural gas engine starting
May 14, 2014, Cummins L8.9G natural gas engines unveiled at the 2014 Beijing International Road transport, city buses and auto parts exhibition, L8.9G natural gas engines, power coverage 250-320 horsepower, meet national V emission standards, It is the first natural gas engine Cummins has built specifically for the Chinese market. Its successful listing marks Cummins taking another solid step towards the goal of serving the mainstream market in China. This new natural gas power platform is based on proven and proven products. It not only integrates Cummins advanced natural gas power technology, but also fully considers the specific needs of Chinese users, ensuring that this product provides superior power while achieving cost-effective performance. Sex, environmental protection and reliability have become the natural gas power that the market really needs.
Guangxi Cummins 10,000th engine off the assembly line - re-certified Cummins industrial power to help domestic construction machinery take off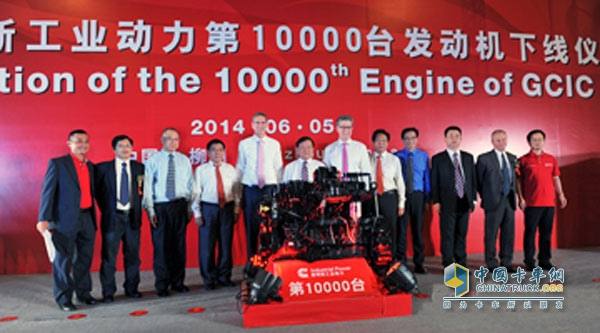 Guangxi Cummins 10,000th engine off the assembly line
On June 5, 2014, Guangxi Cummins Industrial Power Co., Ltd. ushered in the successful rollout of the 10,000th engine. Guangxi Cummins is Cummins' first production base for construction machinery engines in China. It is an important measure for Cummins to increase investment in non-road markets and focus on opening up the mainstream market, and is another milestone for Cummins' joint venture cooperation in China. The two special engines for construction machinery produced by Guangxi Cummins provide Liugong with the ideal power for reliable and efficient operation. For the Chinese and international construction machinery market to deliver more competitive products, for the majority of users to improve production efficiency, make fuel and reduce consumption to make a positive contribution.
Cummins ISG Engine Production Releases - Revolutionary Innovation Drives Heavy Duty Engine Market
On June 7, 2014, the Cummins IGS series heavy-duty engine mass production ceremony was held at the new factory in Cummins, Beijing. Combining global customer input with Cummins top R&D capabilities and advanced technologies, the ISG series heavy-duty engines achieve a perfect blend of fuel economy, handling and reliability with innovative technologies. Tom Linebarger, chairman and chief executive officer of Cummins Inc., stated: "ISG is a revolutionary platform, and the name 'G' stands for innovation. Its birth marks the first time that Cummins has been tailored to the Chinese market. An innovative green heavy power."
Cummins's fourth distribution center in Xi'an - creating service levels that exceed customer expectations
On June 11, 2014, Cummins' fourth domestic regional distribution center (RDC) was officially put into operation in Xi'an. With a standardized warehouse logistics center and an intelligent global online logistics information platform, Cummins Xi'an Distribution Center will provide integrated, optimized, and intelligent regional logistics services tailored to the needs of the local market, allowing customers to enjoy more high-quality and convenient spare parts services. . At present, Xi'an Distribution Center has more than 2,100 square meters of warehouses, nearly 4,000 kinds of storage parts, the average daily receipt, shipment, packaging and shipment of more than 200 species, the highest daily workload of 700 products. The Xi'an Regional Distribution Center is a further reflection of Cummins's aftermarket supply chain strategy: to make parts warehouses closer to end customers, and to reduce overall logistics costs through the economies of scale brought about by providing logistics services to all Cummins business units.
Established Cummins J&E Joint Venture Co., Ltd. - Cummins Powered Power Market to create a win-win situation
On October 21, 2014, Cummins Jardine (Shanghai) Energy Co., Ltd., a joint venture between Cummins and Hong Kong Jardine Matheson, held its opening ceremony in Shanghai. Cummins' Jardine will rely on Cummins's world-leading experience in gas turbine technology and integrated energy solutions, and will collaborate with the extensive project management experience of Jardine's machines to provide energy-saving technology research and development, related consulting and technical services to customers in various industries in China. And related equipment maintenance and other ancillary services. To support the development of China's environmental protection energy program, it will contribute new strength.
Cummins Emissions Processing System Releases 100,000 Units in a Single Year - Commitment to Environmental Responsibility and Leading Emissions Technology
On November 3, 2014, Cummins Emissions Processing Systems (China) Co., Ltd. ushered in the celebration ceremony for the production of the 100,000th product this year. As a leader in global and Chinese emission treatment technologies, Cummins set up an emission treatment company in China as early as 2007, which was the first to promote engine emission reduction technologies in China. From the discharge of the first emission treatment product in September 2009 to the history of 100,000 products in November last year, and to the offline production of 100,000 products in 2014, Cummins Emissions Processing System (China) Co., Ltd. Over the past few years, we have quickly gained a firm foothold in the market, increased our visibility, and developed a variety of emission treatment technology to meet different customer needs.
Wuxi's Cummins Turbo Technology Plant opened its second plant - leading the turbocharger market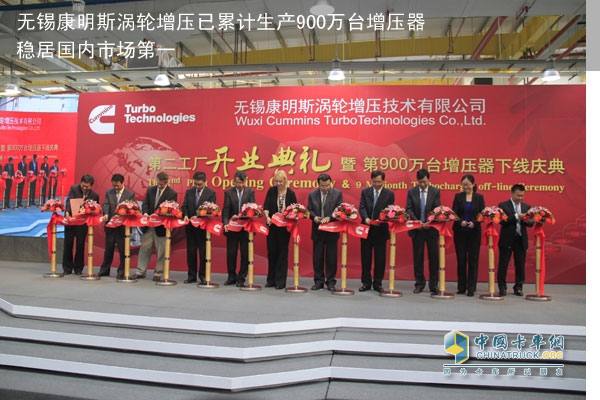 The opening of the second plant of Wuxi Cummins Turbo Technology
On November 6, 2014, Wuxi Cummins Turbo Technology Co., Ltd. held a grand opening ceremony of the second factory in Wuxi. The overall plan for the construction of the second factory will be two phases: The first phase will be completed in 2014, and the company's total annual production capacity will reach 2 million units. The second phase of construction is expected to start in 2020. By then, the company's overall annual production capacity will increase to 3 million units. . Benefiting from the rapid growth of the domestic commercial vehicle market, Wuxi Cummins turbocharger technology has been the industry leader in commercial turbochargers. Since its establishment in 1996, it has cumulatively produced 9 million turbochargers and has been ranked first in the domestic market.
Cummins Makes a High-profile appearance at the 2014 Shanghai BMW Exhibition - a comprehensive demonstration of the leading technology for construction machinery and setting an industry benchmark
Cummins demonstrated at the bauma China 2014 held on November 25-28, 2014 for the first time a new series of exclusive powertrains tailored to the specific application market – QSF3.8, QSB7 all-electrically controlled off-road three-phase Engine and other related products. Once again proved that Cummins's pioneering in the field of exclusive power, completely close to the market to meet the increasingly urgent needs of customers, provide customers with reliable products, excellent performance and economic costs, to create the best value for customers.
Cummins Team Helps Home-made Fracturing Vehicle Experiments Achieve Success - Breakthroughs in Import Equipment Monopoly Create Value for Customers
At the end of 2014, the North Heavy Industry Group Co., Ltd. equipped the Cummins QSK60 series high-power electronically controlled engine 2500 fracturing vehicle and conducted the 140Mpa ultra-high pressure test and continuous operation test. The technical indexes and performances have reached the international advanced level, and the test has been achieved. A complete success. The 2500 type fracturing vehicle equipped with Cummins QSK60 engine has withstood the tests of 140MPa ultra-high pressure and large-displacement continuous fracturing tests. It has been operating continuously for four and a half hours under well-known conditions in the oil field wellhead fracturing operations, and the conditions are good. Item parameters are normal. The commissioning and testing of the 2500 type fracturing truck vehicle lasted more than 20 days. Cummins's professional team consisting of marketing sales, engineering technology and services worked overtime and worked together to create the best value for customers and exceeded the expectations of customers. , won praise.
1. "WELLISH" precision Die Casting Machine is found in 1995,cover dozens of mare than 80,000m²
2. "WELLISH" precision die casting machine has got both 1st level energy conservation certification, ISO9001-2008 certifacation & CE authentication for Die casting machine (Hot chamber 30-200T, Cold CHAMBER 140-2000T)
3. "WELLISH" percision die casting machine are widely used for lead, zinc, copper, aluminum, magnesium etc non-ferrous die casting in the industries of aviation & aerospace, ship & vehicles, electric and electronic appliances, instruments and meters, medical facilities, hardware′s etc.
ALLWAY---always on the way with you!
Die-Casting Machine,Die Casting Machine High Pressure,Electric Part Die Casting Machine,Electronic Part Machine
NINGBO BEILUN ALLWAY MACHINERY CO., LTD. , http://www.aotai-machinery.com