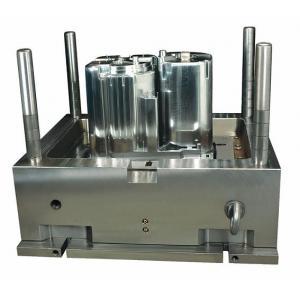 From the perspective of the industry layout of China's home appliance accessories mold, home appliances plastic mold manufacturing center concentrated in Guangdong, Zhejiang, Shandong, home appliance accessories foam mold is concentrated in Anhui Quzhou area, home appliance stamping mold in Jiangsu is more concentrated. The various mold enterprise clusters that are serviced by large-scale home appliance groups ensure that the supply system of home appliance companies is guaranteed. According to investigations, at present domestic home appliance manufacturing molds account for more than 80% of the market share, and are fully capable of self-sufficiency. Moreover, domestic mold manufacturing companies are fully capable of producing molds that require high molding technology such as large LCD TV plastic molds and back-plate stamping dies. competent.
It can be foreseen that large-scale, precise, and rationally designed (mainly thin-walled products) injection molds will gain the attention of home appliance companies. Responsiveness and rapid delivery of accessories, and the acquisition of market share for home appliance companies rely on advanced mold forming technology. Haier, for example, Haier purchases about 6,000 molds a year, worth more than 500 million yuan, due to Haier Molds and Haier's product design and development are integrated, which saves valuable time for Haier's products to be quickly brought to market.
In 2011, under the influence of China's rapid economic growth and the global economic recovery, China's mold industry achieved a good recovery growth during the post-crisis period. The total mold sales nationwide reached approximately RMB 124 billion, a year-on-year increase of 15%. In addition to traditional markets in the United States, Japan, and Europe and Southeast Asia, China's mold export regions have achieved success in the development of emerging markets such as Brazil, India, Russia, and Australia. At present, China's mold exports have reached more than 40 countries and regions. According to the survey, mold exports mainly come from Guangdong, Zhejiang, and Jiangsu, followed by Shanghai, Shandong, Fujian, Tianjin, Liaoning, Beijing, and Jilin. It can be seen that the Pearl River Delta, the Yangtze River Delta, and the Beijing-Tianjin region are still developing mold production areas, and they are also home appliance molds. Agglomeration area.
The advantages of China's mold industry are still mainly reflected in the rubber and plastic stamping dies, but also reflect the strong competitiveness of home appliances mold, the market is more active. During this period, the growth rate of mold exports was higher than the overall growth rate of the industry, and for the first time, a good performance of the annual foreign trade surplus was achieved.
scooter fuel tank, frame body, plastic cover parts, speedometer, tires, front & rear shock, handle switch, head light, rear light, turning light, seat, horn, front wheel, rear wheel, front disk brake, rear drum brake, cables, wire harness, regulator, flash, start relay, CDI, carburetor, air cleaner, springs, battery, foot step, carrier, safe guard, mirror, helmet.
Scooter Spare Parts,HONDA-style Scooter Spare Part, Yamaha-style Scooter Spare Part, Mini Vespa Scooter Spare Part
JIANGMEN CHANGHUA GROUP CO., LTD. , http://www.changhuagroup-motor.com